Closet 3D Model
In the closet, you can view your currently equipped gear.
From the Edit Avatar screen, you can try on different items by moving the cursor accordingly.
You can also zoom and rotate your avatar to get a complete view from all angles.
Weapon Types and Ninja-Gum
Gum weapons come in various types, such as katana blades, hammers, yo-yos, and more.
The appearance of gum weapons will change depending on the type of Ninja-Gum you equip.
Some varieties of Ninja-Gum are consumed when you battle online, while others can be used over and over. You can check your current inventory of Ninja-Gum from the Closet screen.
Furthermore, if you purchase a Ninjala Pass for a given season, you can use any type of Ninja-Gum without restriction for the duration of that season.
Sorting
Displayed lists can be filtered and sorted using a number of conditions.
The sorting options available vary depending on the content of the list.
This is useful when you are looking to find a certain item quickly.
Changing Gear Sets During Matching
In addition to your closet, you can also change your currently equipped gear set from the matching lobby.
Your Avatar
Your avatar is the character who represents you in the world of Ninjala.
You can change your appearance and equipment at any time from your closet.
Customizing your outward appearance and equipping avatar items will not affect your performance in battle.
Base Main Menu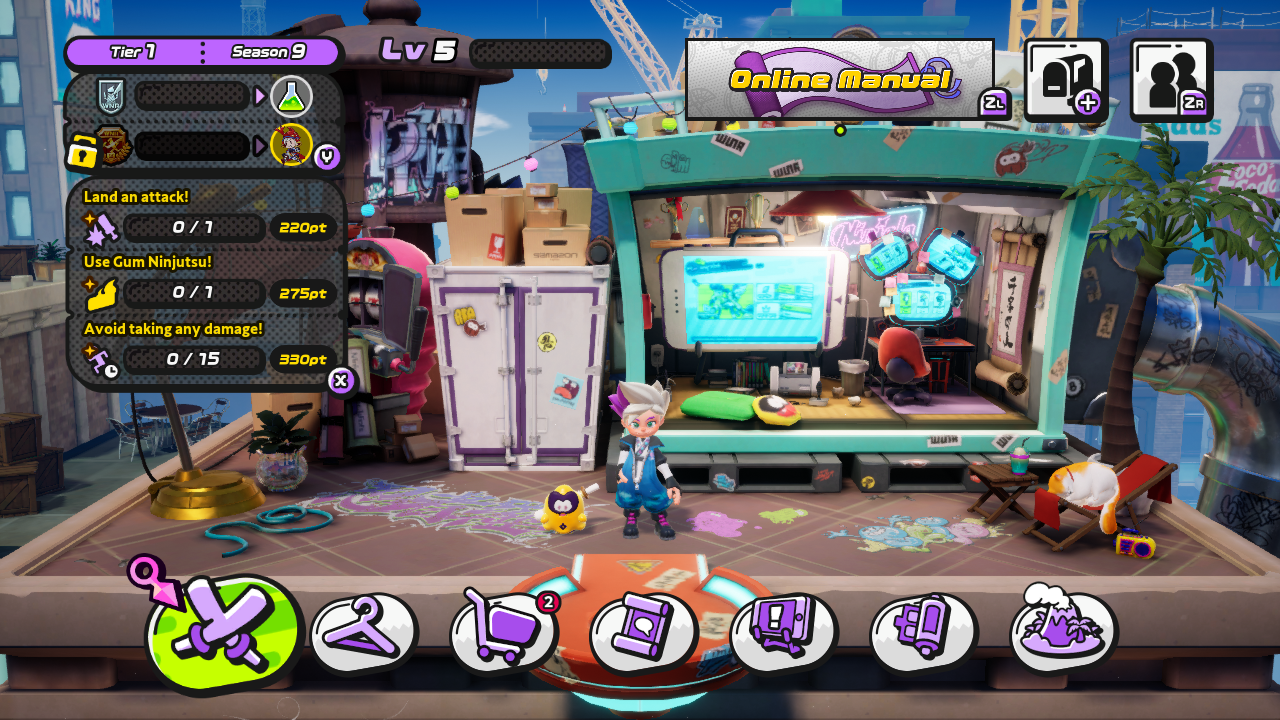 From here, you can proceed to the Battle, Shop, and Edit Avatar screens.
You can also view official announcements and notifications from the Ninjala team.
At your base, you can also review Ninjala Pass or Free Pass progress, as well as mission status.
Ninjala Seasons
Ninjala employs a season system. A single season will last for approximately three months, at which point it will end and a new season with a new theme will begin.
Rankings, Ninjala Passes, and so forth will be reset with each new season.
News
Various announcements will be displayed to Ninjala players.

News: Previews of new seasons, etc.
Events: Gumball Machine and Shinobi Shop announcements.
Campaigns: Information on various campaigns offering special prizes or rewards.
Maintenance: Announcements of scheduled maintenance sessions, server downtime, etc.
Important: Announcements regarding bugs and anti-fraud measures.
Mail
Here, you can view emails received from the Ninjala team.
Messages may contain announcements or presents from the team.
If an email has a present attached, you can claim it by selecting the appropriate option.
In-game Advertising
In-game advertisements appear in the Base and Shop menus.
Season info, event announcements and shop advertisements are displayed.
Clicking on an advertisement will take you directly to the corresponding information page.
Push Notifications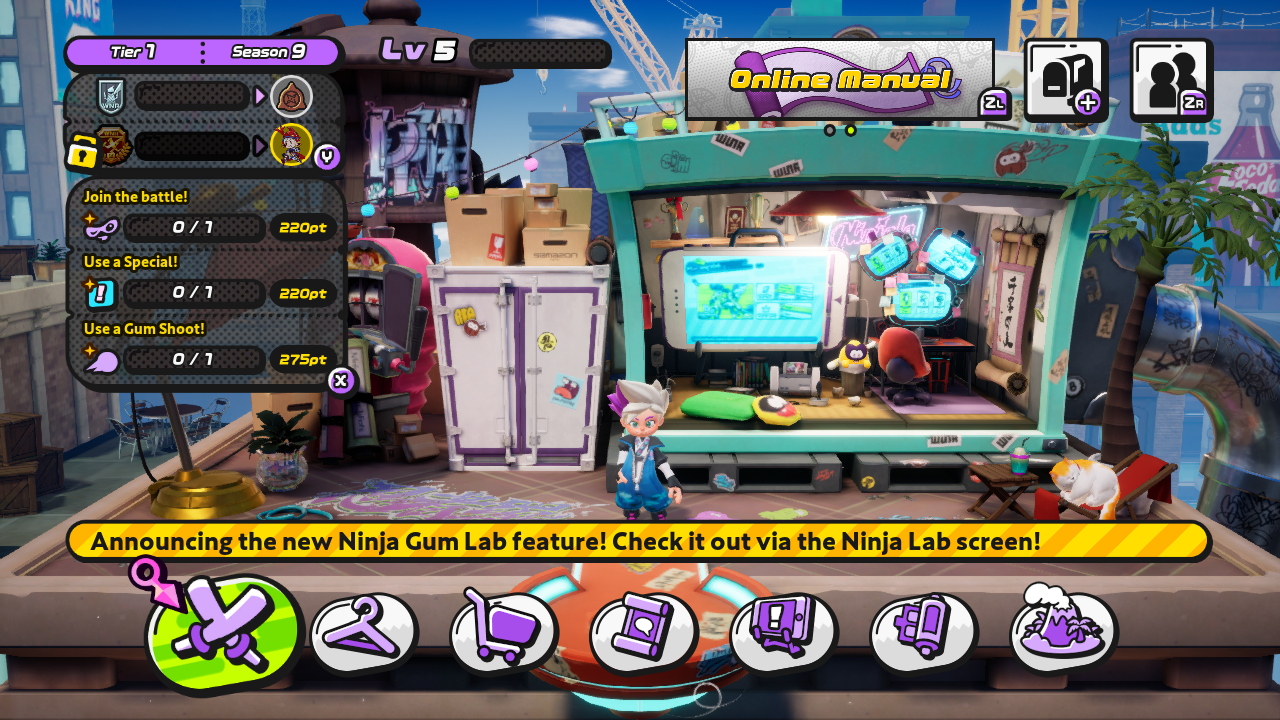 Displays important information such as server maintenance notices.
Displayed on the Base, Battle Menu, Matching Lobby, and Battle History screens among others.
Closet
- Equipment
You can equip gear to be used in battle.

- Avatar
You can change your outward appearance and equip avatar items. Customizing your outward appearance and equipping avatar items will not affect your performance in battle.

- Battle Emotes
Change the animation that plays when you start a battle, and upon victory or defeat.

- Communication
You can customize emotes and stickers.

- Favorites
By registering sets of gear as favorites, you can switch between desired configurations with ease.
Equipment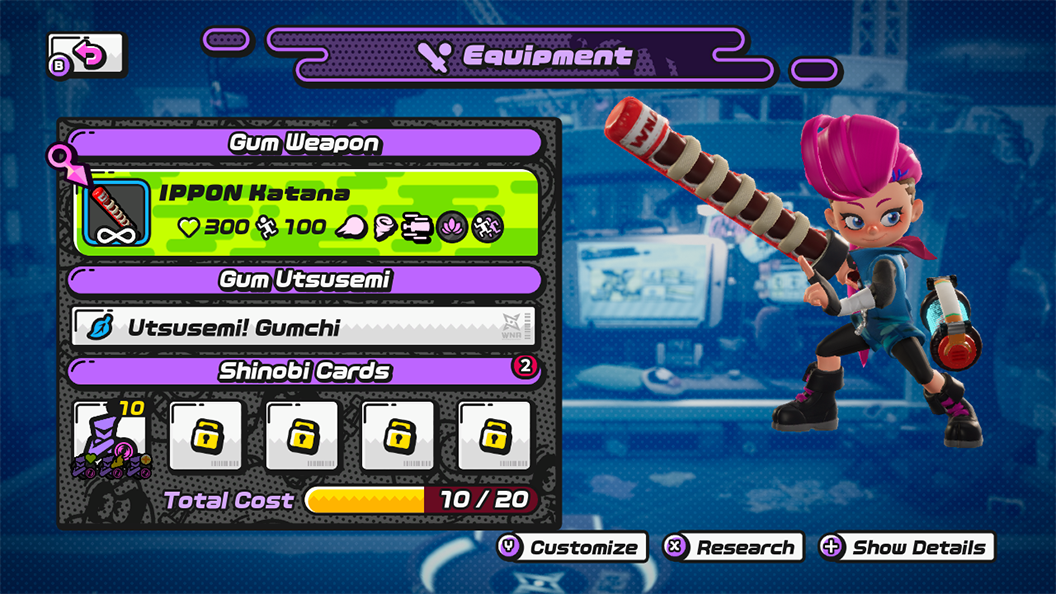 Change gum weapons, Shinobi Cards, Gum Utsusemi, and Specials.
Shinobi Cards allow you to unlock and substitute new powers, as well as to alter and enhance Assist Codes.
Changing your Gum Utsusemi technique will affect what you transform into.
If you have obtained any Alter Specials from the Ninja Gum Lab, you will be able to use them in place of default Specials.
Avatar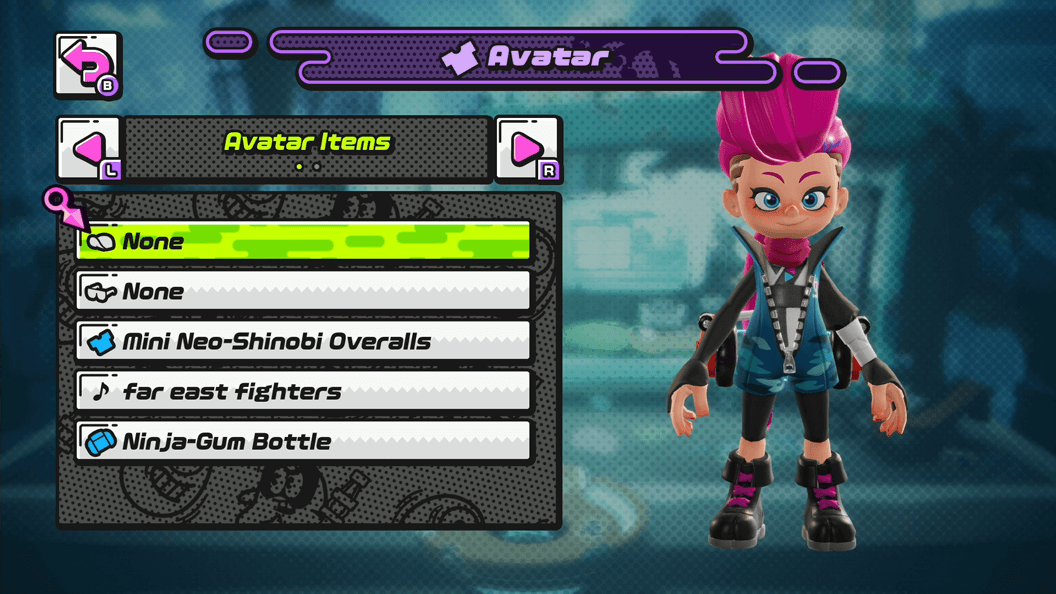 Customize your appearance, equip avatar items, and change background music.
Avatar items come in various brands. Collect items of the same brand to make it easy to coordinate your look.
Your outward appearance and avatar items will not affect your abilities in battle, so you are free to customize your look without worrying about your performance suffering.
Battle Emotes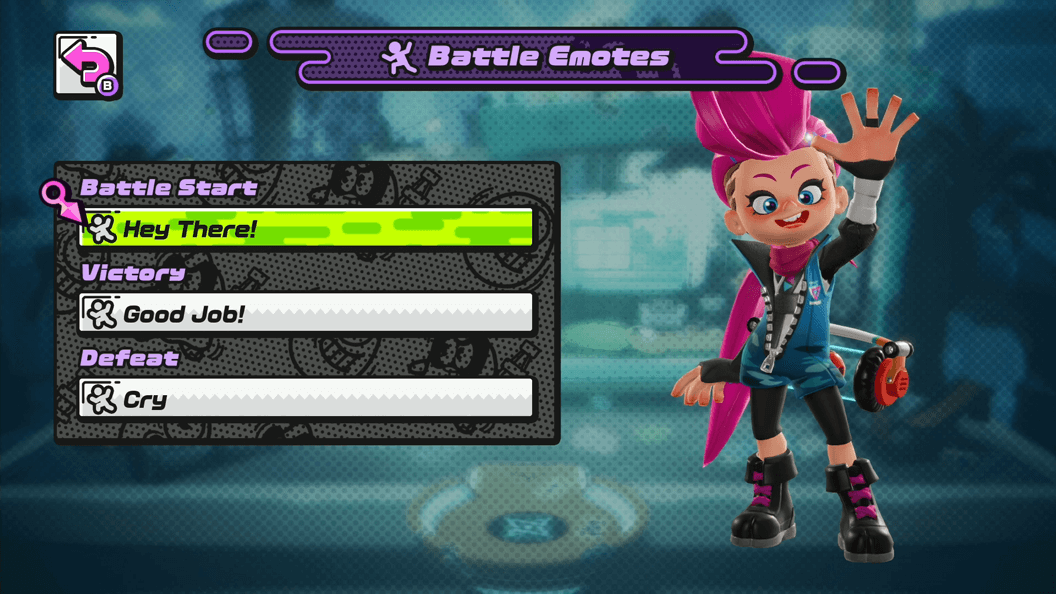 Change the animation that plays when you start a battle, and upon victory or defeat.
Certain emotes are limited to specific situations.
Communication
Set emotes and stickers to be used during battle.
Emotes and stickers can be used to communicate with your teammates, to show off to your opponents, and more.
Favorites
It is possible to save and retrieve set of avatars and battle equipment that you have registered.
You can register your current combination as a set.
Retrieving can be used to easily switch to gear sets you have previously registered. Doing so will automatically revert any current combination, so please be careful.
You can also load sets from the matching lobby. Register multiple sets so you'll be ready for any battle or occasion!
Shinobi Cards and Assist Codes
Spend medals to receive Shinobi Cards.
Shinobi Cards allow you to assign Assist Codes.
Assist Codes can be enhanced using other Assist Codes and medals.
Shinobi Cards and Assist Codes
Shinobi Cards and Assist Codes Equipment Cost
From your closet, you can equip Shinobi Cards and Assist Codes.
You can combine equipment up to the displayed cost limit.
Shinobi Cards and Assist Codes
Mobile Menu
From the Player Info screen, you can view your attributes and other details.
Select Ninjala Code to enter special "Ninjala Codes" that you have obtained.
In the Sound menu you can listen to BGM tracks and create a BGM Playlist.
From here, you can also access the Options, Help, and Credits and Licenses screens.
Options
Here, you can configure display settings, sound, language, button settings, and more.
TV Mode should be used when playing with your Nintendo Switch™ connected to a TV, while Handheld Mode should be used at all other times.
Miscellaneous settings cannot be changed in mid-battle.
Credits and Licenses
Find out about the team who created Ninjala.
View the licenses for tools used in the creation of Ninjala.
Player Info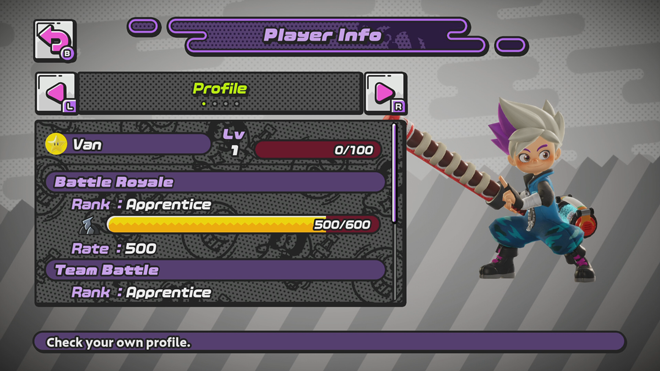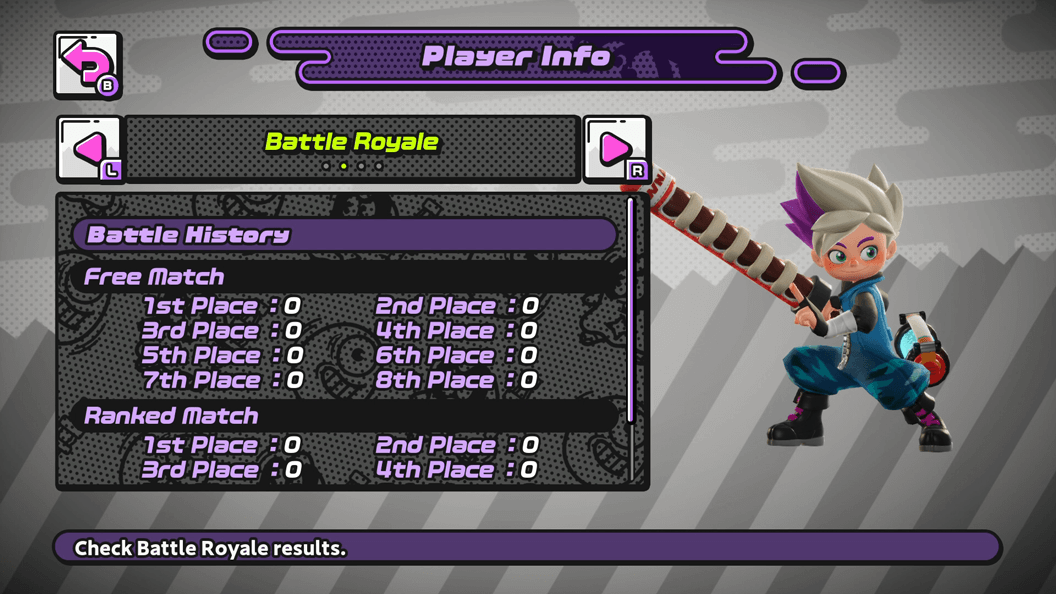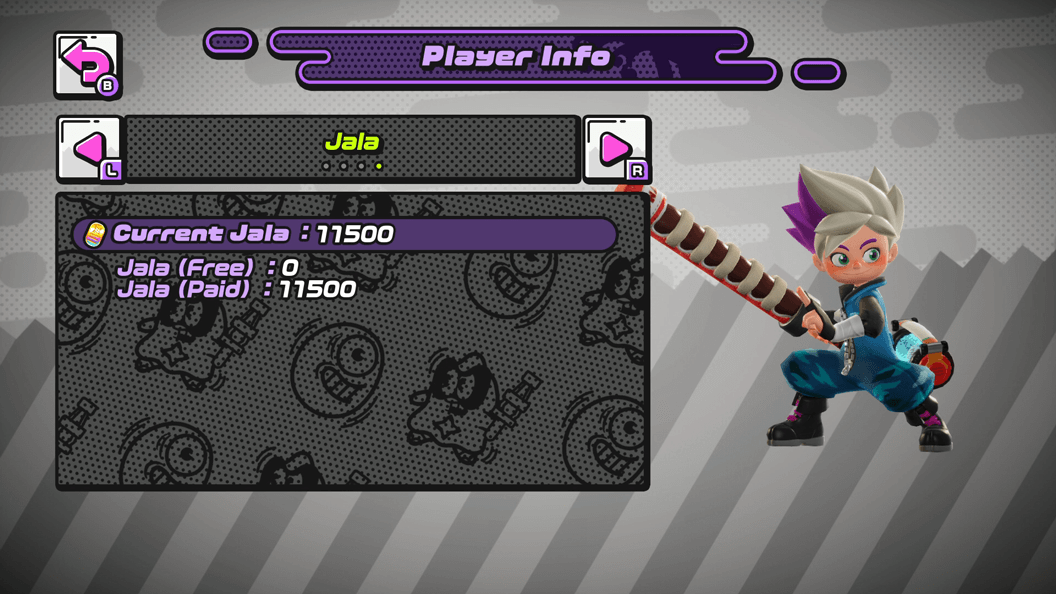 View your playing, battling, and Jala purchase history.
Profile
You can check your battle statistics, the expiration date of paid Jala, and any experience bonuses in effect.
Please be aware that paid Jala has an expiration date.
Rank
Rank among the top ninja, and a special icon will be displayed.
There is a chance that players with the "Ninja God" and "Ninja Legend" ranks will be automatically demoted to a lower rank at the end of the season.
Ranks:
Ninja God
Ninja Legend
Super Ninja
Master Ninja
Elite Ninja
Vanguard Ninja
Adept Ninja
Apprentice
Player Level
Fight battles to gain experience points (EXP). Accumulate enough EXP, and you will level up.
When you reach certain level milestones, you'll be rewarded with a commemorative sticker.
Team Battle History
Review the results of Team Battle matches you have participated in.
You can browse by Free Matches and Ranked Matches.
Battle Royale History
Review the results of Battle Royale matches you have participated in.
You can browse by Free Matches and Ranked Matches.
You can review how many times you have achieved each ranking.
Current Jala
View how much Jala (both purchased and received) you have in your possession.
You can also confirm the expiration date of purchased Jala.
Help
View Ninjala's Privacy Policy and Terms of Service.
From here, you can also access the inquiry menu, the online manual, frequently asked questions, and more.
Go to Frequently Asked Questions
Terms of Service / Legal Notice
Frequently Asked Questions
In the online manual, you can find a list of answers to frequently asked questions.
This feature is only available online.
Inquiry Form
Questions for the operations team may be asked via the inquiry form.
This feature is only available online.
Terms of Service / Legal Notice
View Ninjala's Terms of Service, the Specified Commercial Transaction Law, and the various legal documents.
This feature is only available online.
Terms of Service / Legal Notice
Privacy Policy
View Ninjala's Privacy Policy.
This feature is only available online.
Online Manual
Browse the online manual for Ninjala from the official homepage.
This feature is only available online.
Ninja Lab
Check the ninja rankings to view the strength of the top ranking ninja.
Check the weekly ranking to view the top ranking ninja of the week.
View information about the top ranking ninja in battle royale and team battles by rank.
At the Ninja Gum Lab, you can research gum weapons to enhance their performance.
Ninja Rankings
View Ranked Match ratings for the current season.
Rankings are aggregated by season.
Observe the gameplay skills of high-ranked ninja and learn from the best!

Note that rankings may fluctuate next season and beyond.
Weekly Ranking
Check the rankings for each weekly battle royale and team battle.
Rankings are aggregated weekly.

There are various types of weekly rankings, and all battles except for room matches apply.
You can get rewards for each of the rankings too, so aim for the top in whichever you're best at!
Ninja Gum Lab
You can research gum weapons to enhance their performance.
Research Points and Ninja Medals are required for your research.

Make progress in your research to gain useful in-battle effects like increasing your maximum Life and boosting your damage, as well as other special effects like extra Alter Special and Favorites slots.

・Alter Special
 A completely different, extra Special.
 By gaining research effects, you will be able to switch out your gum weapon Specials with Alter Specials.
 For example, the IPPON Katana, Scroll Blade, and Shinobuzz Paper Fan are of the IPPON Katana Type and their existing "Charging Slash" can be switched out for the "Razor Edge" Alter Special.

・Increase Favorites Slots
 Gaining this research effect will increase the number of favorites slots for equipment and avatars.
Ninjala Tournament
The "Ninjala Tournament" is an online tournament that is held irregularly.
There are different rules and eligibility requirements for each tournament, which players can enter by joining a battle.
Players cannot enter when the tournament is not in session, or if they do not meet the eligibility requirements (tournament details are available)
Participants will be ranked in accordance with their performance in the tournament and can receive prizes depending on their final placement in the rankings.
Invitations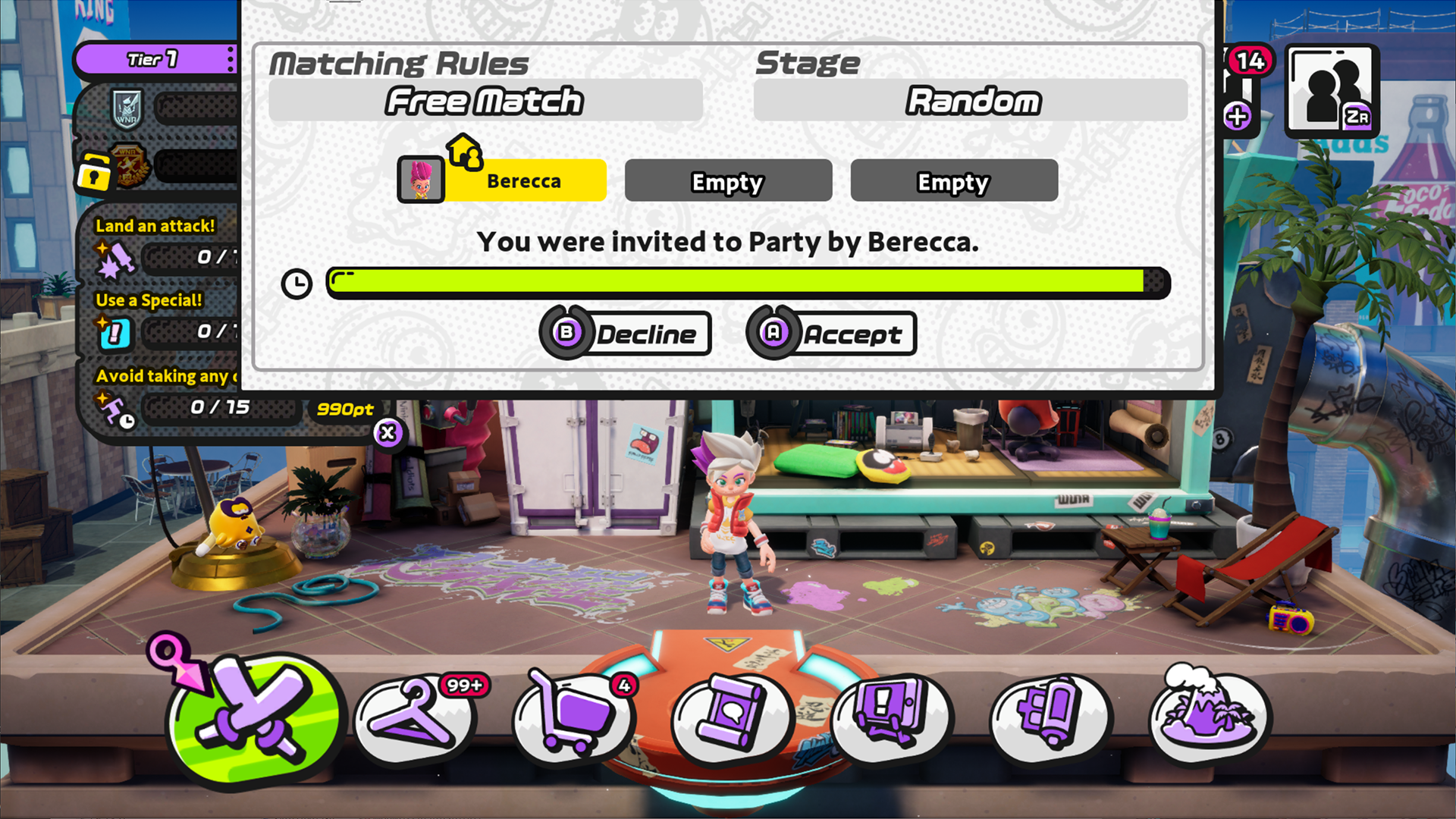 This feature allows you to enjoy a team battle with your friends with a minimum amount of preparation time.
From your base, you can invite up to three friends at a time to join your party.
Invited players will receive an invitation prompt that they must respond to within the allotted time limit.
When the party leader is ready, all members will automatically be transported to the matching lobby.
In addition, in cases when the visual lobby is available, all members of the party can enter the same visual lobby.
Ninjala Collection Cards
A feature where you can take on the Gum Break Challenge mode by scanning Ninjala Collection cards (sold separately).
By playing the Gum Break Challenge you can receive amazing in-game items, and if you succeed you can earn bonus Tier Points.

Scanning Tip: First, place your Joy-Con™ (R) as close as possible to your Ninjala Collection Card, then slowly move it away until it is successfully read.
Visual Lobby
Players can access the visual lobby WNA Resort from their base.
You can also use the invitation feature to enter the same visual lobby with members of your party.
The visual lobby will be available for a limited time. You cannot access it when it's not open.
Shinobi Challenge
A battle mode where you aim to meet the conditions set for each round.
Meeting the conditions will allow you to advance to the next round and get rewards.
You won't be able to play Shinobi Challenge again until the next time it opens if you fail to meet the conditions, but you can try again for free once per day.
Plus, you can also retry using Jala.
*Free retries will reset every day.