Quick Battle
This mode allows you to jump into battle right away without fiddling with complex settings.
Instant battles will follow the Battle Royale ruleset, with opponents chosen via free matching.
The stage will be selected at random.
Ninjala Battles
This is the standard mode for battling against other players via the internet.
In this mode, you compete against other players for achievements in battle.
Battle rules, matching methods, and stages can be customized as you like.
Room Battles
This mode allows you to play with friends and acquaintances via the internet.
If you wish, you can also play with anyone currently online, even if you are not acquainted.
Ninja-Gum will not be consumed in room battles. Furthermore, players will not receive rewards.
Spectator Mode
It is possible to watch Room Battles as a spectator if permitted by the host.
Only one spectator is allowed per battle.
While observing the battle, you can operate the camera and select from sky, stage (fixed point), and behind-the-player angles.
As well as selecting the camera from the menu, you can easily change your camera settings by holding the ZL button and then pressing the A button.
Neighbor Battle
This setting allows you to filter for nearby players and battles.
It can be helpful in finding players and teams to arrange Room Battles.
This applies to players with the same IP address as you.
Training
This mode allows you to fight a practice battle against a computer-controlled character.
Matching Lobby
Here, players who have been matched gather together, and can adjust their equipment before battle.
In Room Battles, you can adjust your teams, and the room host can change battle rules.
Players who are ready for battle will move to the Standby Dojo, where they can play around while waiting for others to finish their preparations. (*This does not apply to Training mode and when observing as a spectator.)
In the lobby room settings, you will be unable to adjust fixed assist code level and spectator permission settings.
Changing Gear Sets During Matching
Free Match
This rule allows players to enjoy battling without worrying about ranks.
This is where you go to battle against players of all shapes, sizes, and skill levels.
Ranked Match
Fight battles with this matching rule to increase your rank based upon your performance in battle.
This is a serious battle mode for those aiming to improve their rank and overall performance.
Standby Dojo
In this screen, players who are ready for battle can practice moving about while waiting for other players to finish preparing.
When the rules are set to Battle Royale, you can practice fighting against computer-controlled opponents.
When the rules are set to Team Battle, you can practice fighting against your teammates.
Furthermore, you cannot attack opponents in the circular area at the edge of the stage. Please use this space to communicate with your fellow ninja.
Battle HUD
Battle Royale
| | |
| --- | --- |
| 1 | Ninja Sense |
| 2 | Your Life |
| 3 | Specials |
| 4 | Gum Shoots |
| 5 | Gum Ninjutsu |
| 6 | Time Limit |
| 7 | Points |
| 8 | Opponent Info (Name and Life) |
| 9 | Shinobuzz Sound |
| 10 | Controls Help |
Team Battle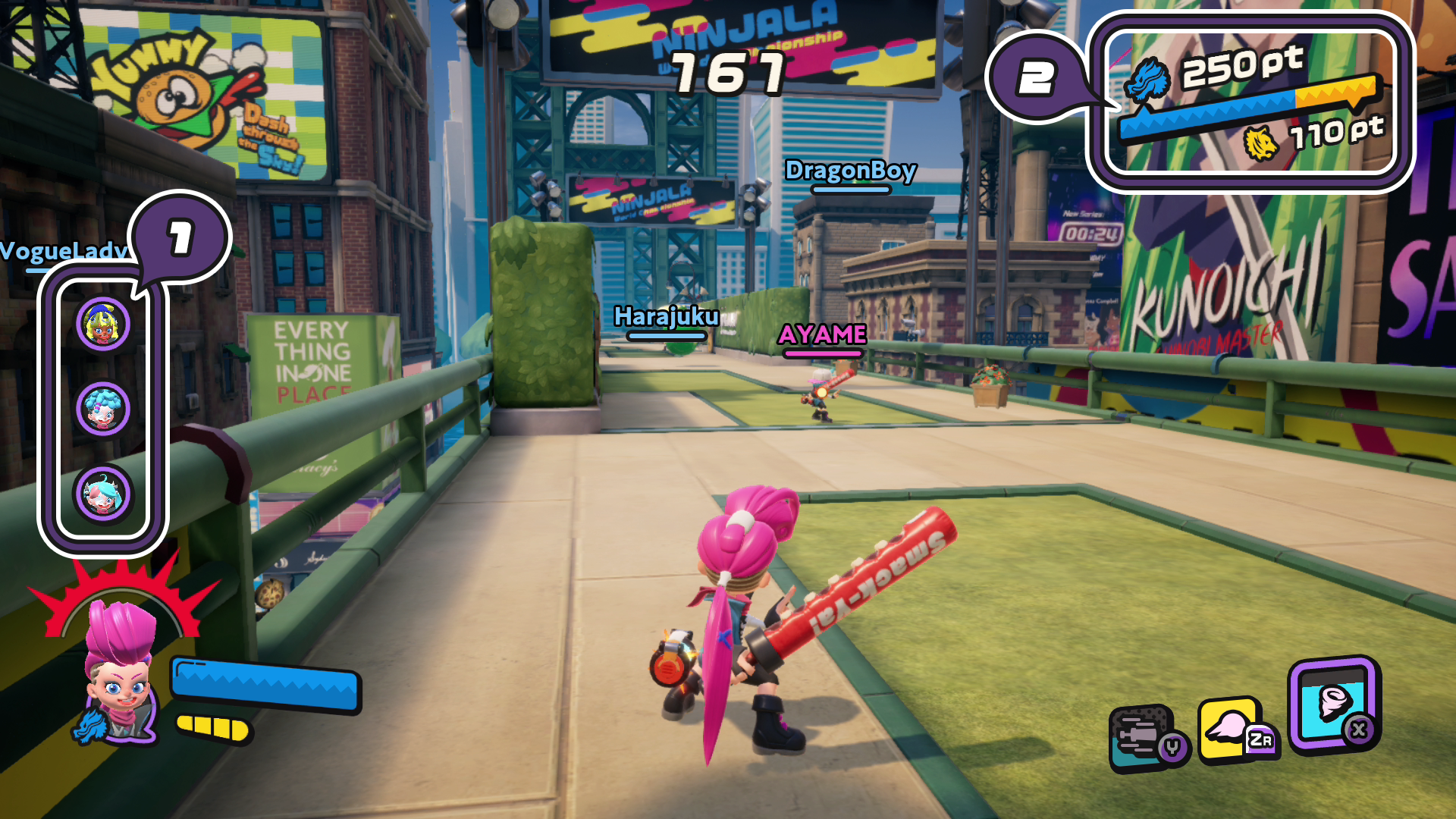 Battle Menu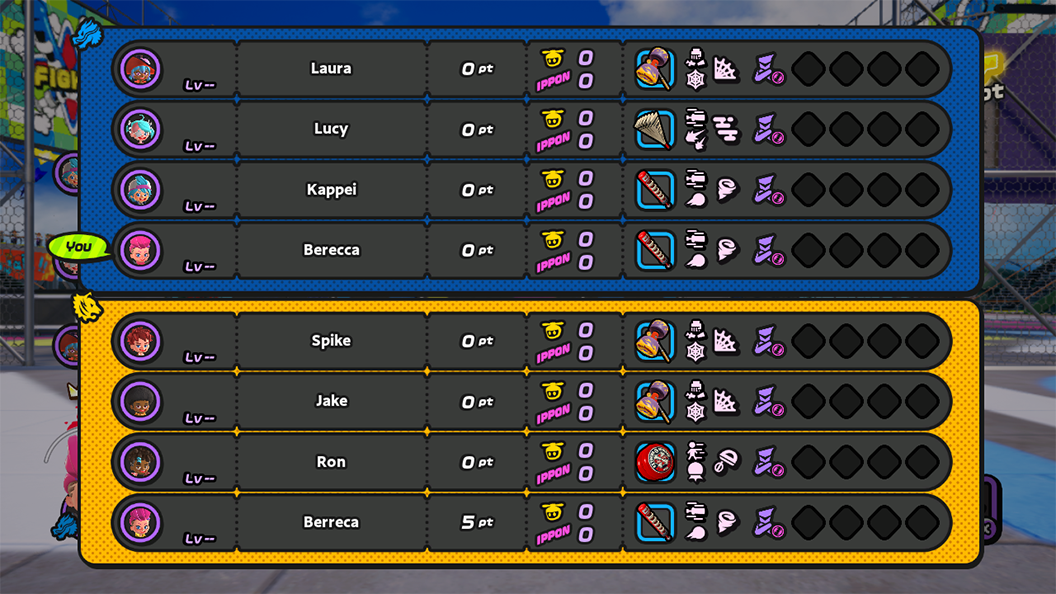 You can view information for all players in the current battle.
Battle BGM
The background music may change during battle.
When the soundtrack switches, the track title and the name of the player whose theme it is will be displayed.
Invitations
It is possible to recruit party members from your base.
You can access your closet and other menus while recruiting is in progress.
Once you have enough members, you will proceed directly to battle.
Select Stage
You will have the chance to vote on which stage you'll compete on.
The stage will be chosen semi-randomly from among all that received votes. The more votes a stage received, the higher the likelihood it will be selected.
For Room Battles, the host can select their desired stage.
If you have no particular stage preference, select Random.
Region
The countries that correspond to each region of Ninjala are as follows:

- Asia/Oceania: Japan, South Korea, Hong Kong, Australia, New Zealand
- North America: United States, Canada, Mexico
- Europe: Germany, Spain, France, Italy, Austria, Portugal, Russia, Switzerland, Ireland, United Kingdom, Hungary, Czech Republic, Poland, Republic of Slovakia, Finland, Sweden, Norway, Denmark, Greece, Croatia, Bulgaria, Republic of Romania , Cyprus, Lithuania, Luxemburg, Malta, Republic of Slovenia, Estonia, Latvia

* Players residing in countries other than the above will be assigned to one of the existing regions, and will still be able to play the game.