Ninjala Story Pack: Chapter Three
Posted

2022/09/29 (JST)
Sept. 29, 2022 (PDT)
29 Sept. 2022 (BST)
29 Sept. 2022 (AEST)
29. Sept. 2022 (CEST)
29 Sept. 2022 (CEST)
29 Sept. 2022 (CEST)
29 Sett. 2022 (CEST)
2022/09/29 (HKT)
2022/09/29 (HKT)
2022/09/29 (KST)

Updated

2022/09/29 (JST)
Sept. 29, 2022 (PDT)
29 Sept. 2022 (BST)
29 Sept. 2022 (AEST)
29. Sept. 2022 (CEST)
29 Sept. 2022 (CEST)
29 Sept. 2022 (CEST)
29 Sett. 2022 (CEST)
2022/09/29 (HKT)
2022/09/29 (HKT)
2022/09/29 (KST)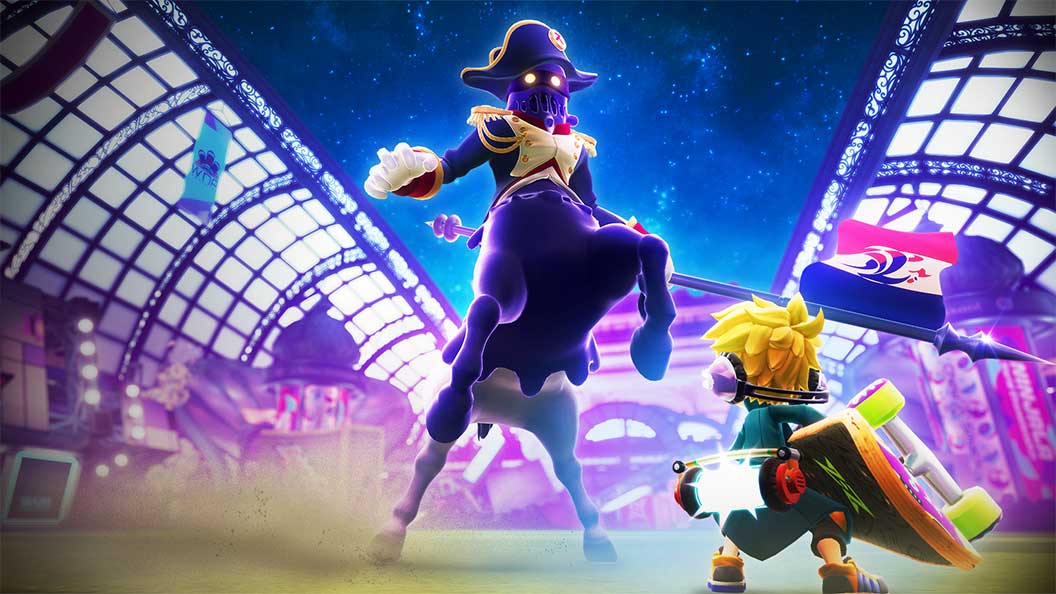 Thank you for playing Ninjala.
Today, we'd like to bring you info on Chapter Three of the Ninjala Story Pack!

The Ninjala Story Pack is additional content for solo play that allows you to immerse yourself deeper in the world of Ninjala.
*You can also access this content in offline mode.

In Chapter Three, Burton takes the stage as our main protagonist!
Clear the Story Pack to get exclusive avatar items!
Chapter Three: Story Overview
The WNA has decided to hold a "WNA Convention" to promote its work to countries across the globe!
Emma is chosen to represent the WNA Academy at the Ninja Extreme Skating Exhibition to be held during the convention.
However, some misfortune befalls Emma on the day of the exhibition, leaving it up to Burton to save the day.
And so, Burton makes a sudden skateboarding debut! Will he be able to come out strong in the exhibition?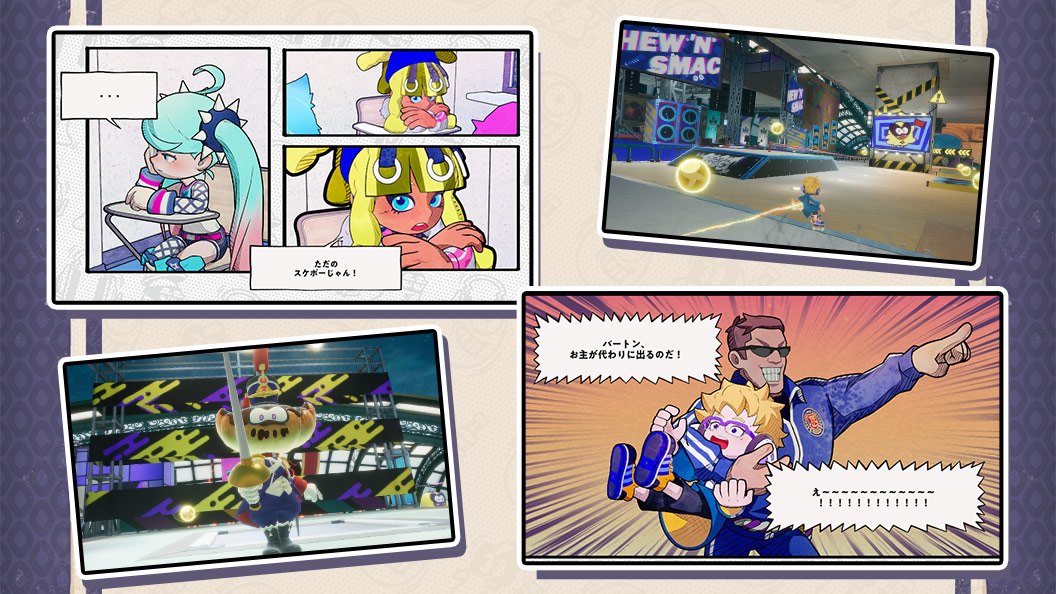 The protagonist of Chapter Three is Burton!
Burton
A researcher working with Berecca at the WNA Research Institute. Ate some prototype ninja-gum and was turned into a child.
What rewards can I get in Chapter Three...!?
Complete all episodes in normal mode: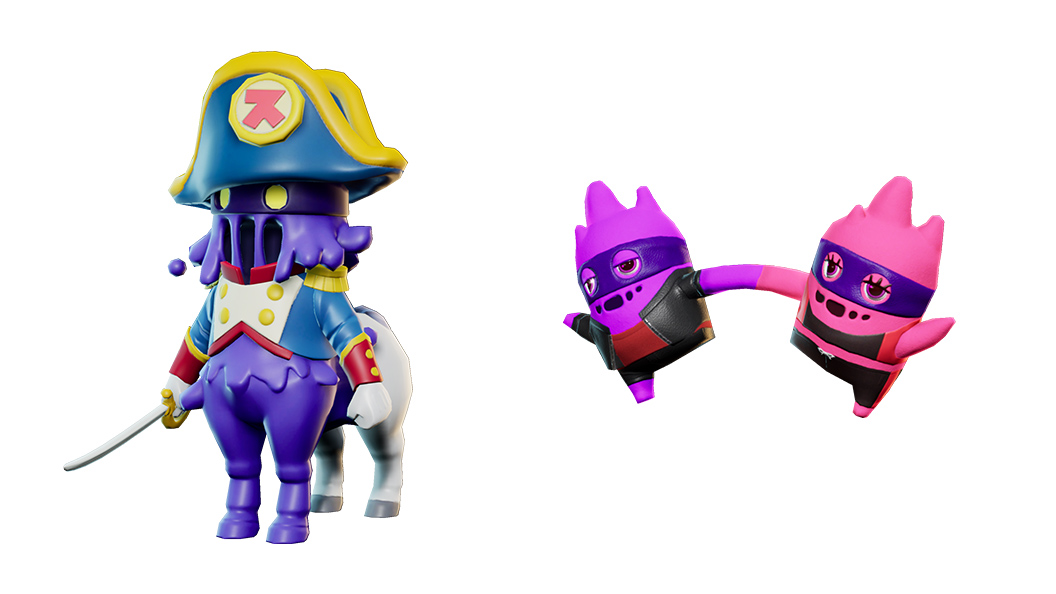 Complete all episodes with gold:
Here's how to Purchase Ninjala Story Packs!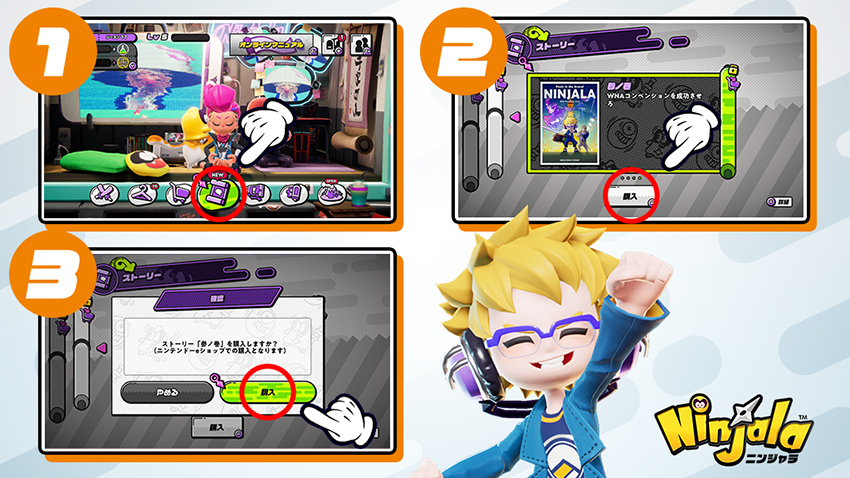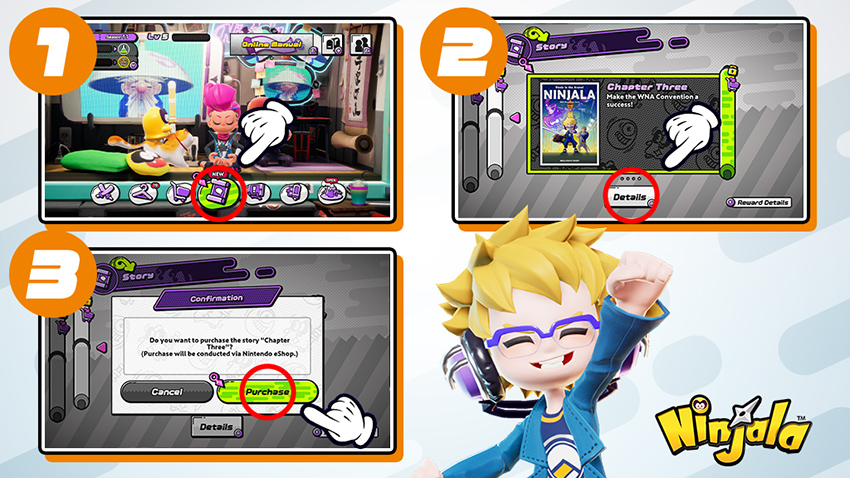 You can choose Ninjala Story Packs to purchase by going to Base → Story.
*To play the Ninjala Story Pack, you must have the Ninjala main game installed.
*You can enjoy the Ninjala Story Pack even if you haven't completed previous chapters.

*Event period and contents may be subject to change without notice.
Thank you for your support, and we hope that you continue to enjoy Ninjala.